11

sept

2015

TIFF: Naomi Kawase's AN Cooks Up Sales Success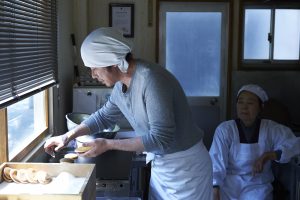 "Kawase, a purveyor of lyrical minimalism, has been a regular at Cannes and beloved of festival selectors. But her films have rarely appealed to so many distributors.
AN has been acquired by Kino Lorber (for U.S. and Canada), Curious Films (Australia), Cineart (Benelux), HBO (Eastern Europe), Edko Films (Hong Kong), MCF Megacom (Ex-Yugoslavia), New Cinema (Israel), MGR Intl. (India), Cinema (Italy), Moving Turtle (Middle East), Caramel (Spain), NonStop (Scandinavia and Baltic regions), California Filmes (Latin America), Green Narae Media (South Korea), Astro Shaw (SE Asia), Filmcoopi (Switzerland), Hakka Distribution (Tunisia), Leopardo (Portugal), Joint Entertainment (Taiwan), Filmarti (Turkey) and Encore Inflight (global airline rights excluding France and Japan).
Confirming the accessibility of the movie, AN grossed $3.8 million at the Japanese box office."
Read full article in Variety: http://variety.com/…/toronto-naomi-kawases-an-cooks-up-sal…/