2017 / Performance. Virtual reality / 13' / status : completed / virtual reality catalog
Through the Masks of Luzia, based on the acclaimed Cirque du Soleil show, is a celebration of Mexican culture, shrouded in surrealism and dreamlike fantasy.
Journey through uncanny worlds of mythical proportions: a demigod swings across the gateway to the Mayan afterlife, a contortionist grants you access to the awe-inspiring wildlife, a monarch butterfly dances, evoking the celerity of the Tarahumara people. With all this and more, prepare for the waking dream of Through the Masks of Luzia.
Produced by Cirque du Soleil and Felix & Paul Studios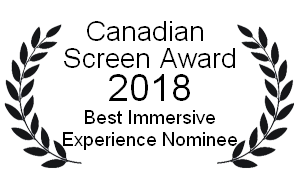 "A cinematic masterpiece"
UploadVR